Article still needs time to cook! Come back later!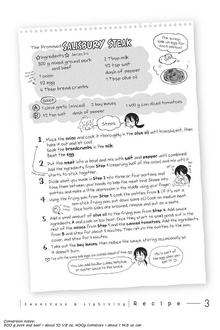 The Promised Salisbury Steak is the third recipe in Sweetness and Lightning.
Ingredients
Edit
Serves 3-4
300 g mixed ground pork and beef
1 onion
1/2 egg - fry up the rest and eat it!
4 tbsp bread crumbs
2 tbsp milk
1/2 tsp salt
dash of pepper
1 tbsp olive oil
One sunny-side up egg for each person
Sauce
Mince the onion and cook it thoroughly in the olive oil until translucent, then take it out and let it cool. Soak the breadcrumbs in the milk. Beat the egg.
Put the meat into a bowl and mix with salt and pepper until combined. Add the ingredients from Step 1 (reserving half of the onion) and mix it until it starts to stick together.